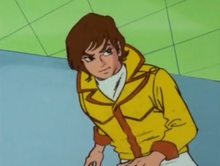 "Invisible Detective Akira" (透明少年探偵アキラ) is the pilot episode for the Chargeman Ken! anime series. It aired originally in 1970 and was 13 minutes long. It stars a man named Akira who has the strange ability to turn invisible. More like, He is invisible all the time but wears a mask and clothes so that he's visible, then strips naked to become invisible. He is also a detective...
When the mysterious "Z Group" steals the mona lisa, it's up to Akira and the police force to recover the famous painting. Akira manages to locate and infiltrate the group's secret hideout. Akira is soon captured and left for dead near man eating buzzards. But with a flip and a yell, he becomes invisible and starts to turn the tables.
After turning invisible he manages to capture the Z Group leader after a brief fight, but despite handcuffing him, he manages to escape again, presumably to cause more havoc.
Akira is popular with MAD user's not only due to its' strong resemblence to Chargeman Ken! The main character's incompetant use of his invisible power is also to blame. While being invisible, he decides to peel an apple right in enemy territory. Additionally, The Z Group's leaders power allows his to see invisible things, we get a glimpse of a naked Akira...much to the Z Group Leader's liking.
Source EpisodeEdit